DSSSB Online Coaching
DSSSB Online Coaching 
Career Endeavour offers DSSSB Online Coaching For Physics, Chemistry, Maths, Biology, and Computer Science. The main features of the short term course is that all the subjects are taught from basic to advanced level by highly Experienced Educators. Due emphasis is given on solving conceptual and objective questions in class.
DSSSB Online Classes are going on at "Zoom" App after the Live Online Class gets over, student can revisit the lectures on "CAREER ENDEAVOUR" Android App only. But remember that this privilege can be availed only thrice at the most for your revision till the Exam.
DSSSB PRT, TGT, PGT Exam Pattern, Click here.
DSSB PGT Online Coaching
| | | | |
| --- | --- | --- | --- |
| Subject | Online | Offline | Registration |
| Physics | 15 April 2023 |  April 2023 | Enroll Now |
| Chemistry | 15 April 2023 |  April 2023 | Enroll Now |
| Maths | 15 April 2023 |  April 2023 | Enroll Now |
| Biology | 15 April 2023 |  April 2023 | Enroll Now |
| Computer Science | 15 April 2023 |  April 2023 | Enroll Now |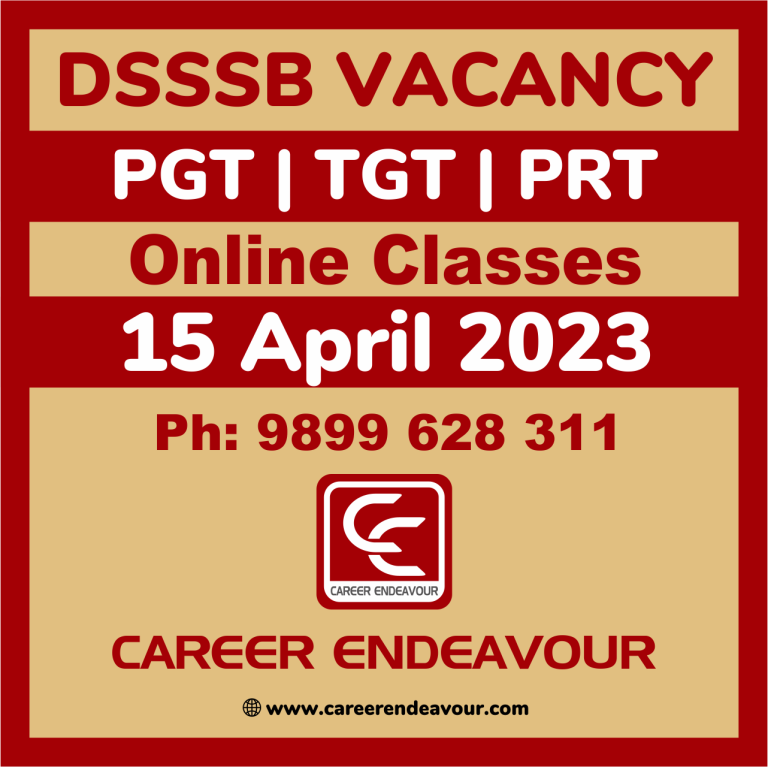 Course Offered:
DSSSB TGT Natural Science Coaching.
DSSSB TGT Maths Online Coaching.
TGT Science Online Coaching.
PGT Physics Online Coaching.
PGT Chemistry Online Coaching.
PGT Mathematics Online Coaching.
PGT Biology Online Coaching.
PGT Computer Science Online Coaching
DSSSB TGT Online Coaching.
DSSSB PGT Online Coaching.
DSSSB Online Classes Salient Features
Live Online Classes and Streamed lectures for revision.
Lectures are taken by a team of Subject-wise Experienced Educators.
Practice Sets will be uploaded on Career Endeavour Android App.
Regular Online Test which are followed by discussion.
2 to 3 Hours per day and 4 to 5 days in a week classes. 
You can clear your doubts with the help of concern Faculty after the class.
Note: This is short term course and will cover nearly 90% Syllabus.
Registration Procedure:
Student you Register online at above link "Enroll Now" OR
 You may directly approach CAREER ENDEAVOUR office at New Delhi, where you are required to complete all formalities by filling detailed application form along with two passport size photographs and a self attested copy of identity proof i.e. Passport/Driving License/Election I-Card/Aadhar Card. 
OR
 Deposit fee in any Branch of HDFC Bank by Cash/Net Banking in favor of "CAREER ENDEAVOUR ACADEMY PVT. LTD." A/C No. 00322320003958, NEFT/IFSC: HDFC0000032, Branch: SDA, New Delhi.
DSSSB TGT Online Coaching
Ph.: 9899 628 311