GATE Chemistry Test Series
GATE Chemistry Test Series 2024
Career Endeavour offers GATE Chemistry Test Series with Detailed Explanations. GATE Online Test Series is developed by the Career Endeavour Research and Development wing and covers a complete Syllabus along with an in-depth Analysis of GATE's Previous Question Papers as per the GATE Chemistry Exam Pattern.
GATE Chemistry Online Test Series comprises 50 Tests in total which thoroughly cover the complete syllabus. The Online Tests are divided into 37 Topics-wise Tests, 3 Minor Tests, and 10 full-length (Mock) Tests with detailed solutions.
Students are required to attempt Tests Topic-wise; Minor Tests, and then Mock tests for their best performance.
The Online Test Portal closes one day before the examination.
Note: Students are advised to use Single Device Only.
GATE Online Test Series
| Course | Subject | Fee | Registration |
| --- | --- | --- | --- |
| GATE | Chemistry | Rs. 1500/- | Enroll Now |
| NET | Chemical Science | Rs. 1500/- | Enroll Now |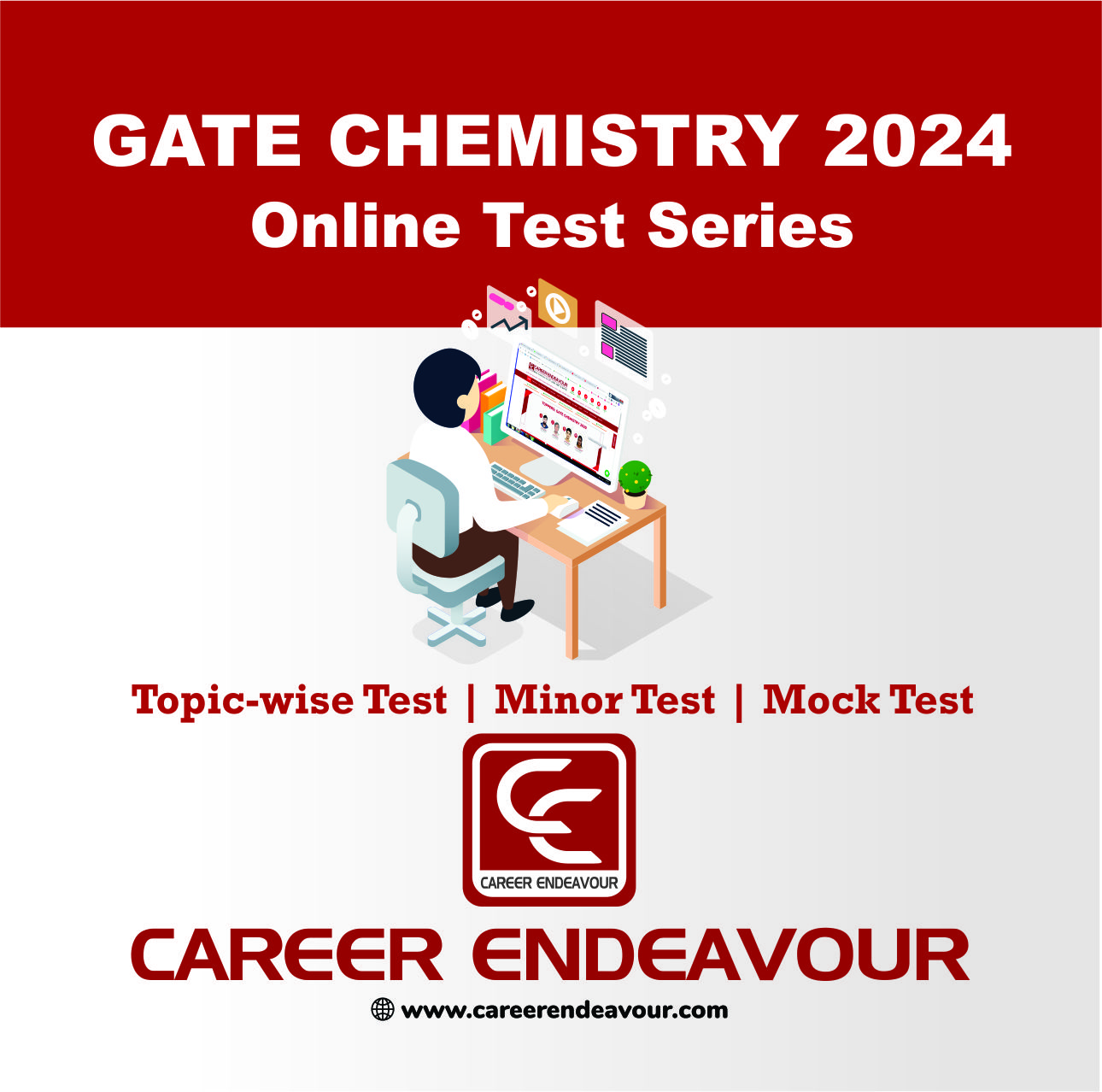 Highlights:
GATE Chemistry Online Test Series is divided into three parts; such as Topic-wise Tests, Minor Tests, and Mock Tests with detailed explanations. You can attempt our Online Tests anytime at your own convenience.
Attempting multiple Online Tests will not only boost your confidence level but also help you inculcate self-analytical capacity. You should attempt maximum Online Tests to learn about your weaknesses. Accordingly, you can devise to rule each one of them.
Career Endeavour also conducts the Offline Test Series for Classroom students on a fixed schedule in the month of January at our specified center in Delhi which is followed by discussions.
GATE Exam Pattern:
The GATE paper pattern of Questions will include some Multiple Choice Questions (MCQ), Multiple Select Questions (MSQ), and/or Numerical Answer Type Questions (NAT) Questions.
GATE Eligibility Criteria:
A Candidate who is currently studying in the 3rd or higher years of any undergraduate degree program OR has already completed any Government-approved degree program in Science / Engineering / Technology / Architecture is eligible to appear for the GATE Examination.
There is no age limit to appear for the GATE Examination.
You may register online at http://course.onlinecareerendeavour.com/test-packages
GATE Online Test Series
Ph: 9643 974 362