net chemistry coaching
Csir Net Chemistry Online Coaching
Career Endeavour offers Csir Net Chemistry Coaching. We Provide Offline and Online Classes For CSIR NET Chemical Science, Physical Science, Life Science and Computer Science.
Our Study Courses has been designed for comprehensive preparation. The main features of the course is that all the subjects are taught from very basic to advanced level, by highly Experienced Educators. Due emphasis is given on solving objective and numerical questions in class.
This Course will also help you for TIFR, GATE, and SET Chemistry Exams.
CSIR NET Coaching June 2023 | GATE 2024
Course
Subject
Online
Offline
Registration
CSIR NET
Chemical Science
 25 Jan. 2023
 15 Feb. 2023
Enroll Now
CSIR NET
Physical Science
 25 Jan. 2023
 15 Feb. 2023
Enroll Now
CSIR NET
Life Science
15 Feb. 2023
Enroll Now
Enroll Now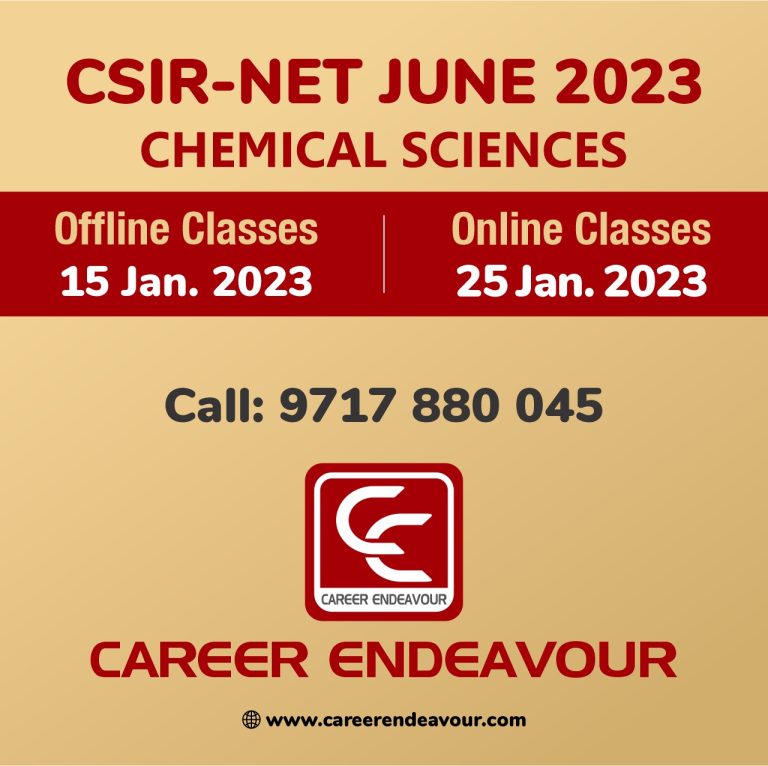 Career Endeavour is an academically structured Institution complete in all aspects which provides quality education for CSIR NET, GATE and TIFR Entrance Exam. Our motto is to provide the high quality education as well as inspiring environment to the students aspire to pursue higher studies in the field of research.
Career Endeavour Academic Team comprises of Subject-wise highly Experienced Educators. We have 17 years long experience which has enabled us to develop easy techniques of learning as well as timely completion of Syllabus. As a part of our teaching methodology, we stress on vital areas in respect to the syllabus and also organize well-planned Online Test Series as well as Regular Assessment of Performance through Topic-wise Test during classroom teaching session which are followed by discussion.
Career Endeavour also helps in career counselling to opt for a suitable career path and provides necessary useful information for various competitive examinations for various streams.
Our Motto: "Prove yourself by your work, not by words"
 Vision: To build a rich and intellectual potential embedded with sound knowledge, professional ethics and human values among the youth, research scholars and scientists by creating excellent human resource to serve the nation.
Mission: Our mission is to provide unfailing commitment to develop a dense competitive environment with the main focus on application of concepts with accuracy, giving maximum result at minimum attempts.
Net Chemical Science Classes
Ph.: 011 2685 1008, 9717 880 045